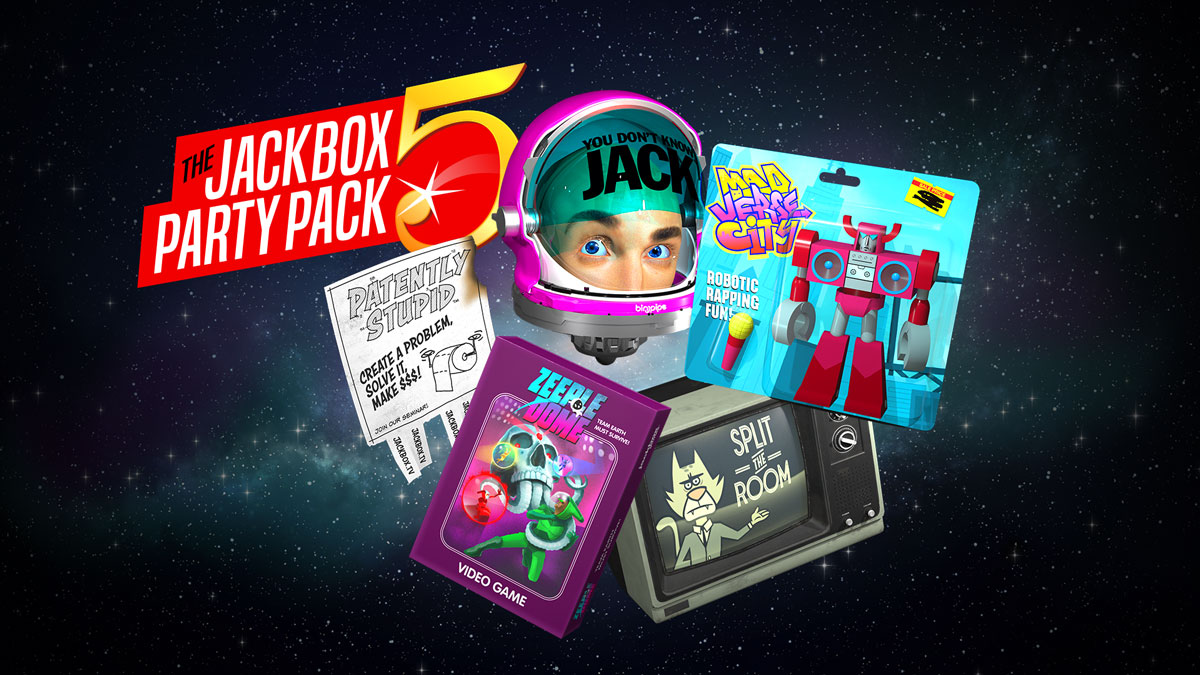 If you're a fan of the multiplayer-centric Jackbox franchise, this deal is worth checking out.
The Jackbox Party Pack 5 is perfect for parties. Five games are bundled in one package supporting up to eight players. Right now you can save almost $20 on the game via discount Steam key retailer Fanatical. You'll pay $10.19 instead of $30.
Disclosure: We may earn a commission from links on this page.
The Jackbox Party Pack 5 includes five different party games. You get:
You Don't Know Jack: Full Stream
Split the Room
Mad Verse City
Patently Stupid
Zeeple Dome
Below we have the launch trailer and descriptions of each of the games!
You Don't Know Jack: Full Stream
Experience the pop-culture trivia mash-up for 1-8 players. The classic game returns full of wild surprises for new and existing Jackbox fans!
Players are tasked with answering multiple-choice questions and score points via in-game money earned for answering questions correctly and in a shorter amount of time.
Split the Room
A what-if game for 3-8 players. Create strange and divisive hypothetical situations in order to split the room's response. Laugh, argue, and ultimately discover which one of your friends or family members have the strangest logic!
Mad Verse City
It's time to channel your inner MC with this lyric-writing game for 3-8 players. Featuring retro-cartoony art, players take on the role of a rap-battling robot, which also lets you write sick rhymes using your smartphone.
Patently Stupid
Are you a problem-solving whiz? Jump into the act-fast competitive drawing game for 3-8 players, where players must create odd inventions to solve bizarre problems.
Join your seminar hosts Toby and Lena as they guide you through the world of invention and finance, with each seminar attendee (player) creating a bizarre problem that another attendee must solve.
Zeeple Dome
Out of this world fun! Join the deadliest game show for 1-6 players. Players must fling themselves at bloodthirsty aliens to win millions of Zubabucks. Play using your phones, tablets or computers – no extra controllers are needed!
Follow @GameDeals365 and like us on Facebook for all of the latest #gamedeals! Did we miss something? Comment below!